Ladies Auxiliary
Great Plains is the first of 34 PVA Chapters across the U.S.
to form a Ladies Auxiliary to support its members.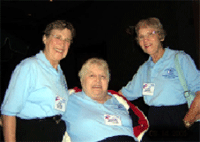 Members can be a spouse, family member or friend of a PVA member
Meetings are held quarterly
Members assist as liaisons to the Omaha VA Medical Center
Members help organize chapter picnics, banquets, annual holiday party, and Chapter fundraising events
McAleer/Pierce Memorial Scholarship
The Great Plains PVA Ladies Auxiliary is the founder of the McAleer/Pierce Memorial Scholarship awarded annually to Nebraska high school graduates. Qualified applicants have a disability themselves, or have a parent with a disability. Auxiliary members are proud to say that over $20,000 has been awarded to graduates since 1987.j
Applications are due by March 1st each year.  To request an application, contact the PVA office at 402-398-1422.
Mission
To support the membership of the Paralyzed Veterans of America Great Plains Chapter
and to foster the continuing education of youths with disabilities through the
McAleer/Pierce Memorial Scholarship Program.