Great Plains Paralyzed Veterans of America (PVA) is a non-profit congressionally chartered veteran service organization that has dedicated over 40 years to helping veterans with spinal cord injuries, as well as other individuals living with disabilities across Nebraska, Western Iowa, and Kansas. Great Plains PVA is dedicated to improving quality of life by advocating for effective healthcare, providing education, promoting equal opportunities, encouraging independence, and enhancing lifetime health and fitness.
Mission: To improve the quality of life of paralyzed veterans and other individuals living with disabilities.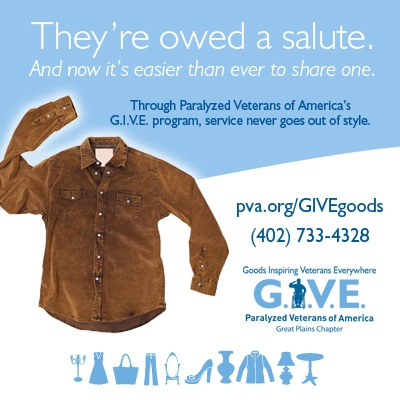 Great Plains PVA is a 501(c)3 non-profit
organization. Donations are tax-deductible.
Send Donations to:
Great Plains PVA
7612 Maple Street
Omaha, NE 68134
Congratulations to Team Nebraska athletes who competed and won 23 medals in the 33rd National Veterans Wheelchair Games in Tampa!


GPPVA Newsletter

THE WHEELED HERALD
Thank you to the Bronze Spoke Sponsors who supported our 11th Annual Tee Off & Support Wheelchair Sports Golf Tournament!
Advanced Medical Imaging
Lancaster Pollard
Redfield & Company
Swain Construction


For information on the
Great Plains PVA
Adapted
Health & Fitness Center
Click Here




Click Here to link to the National PVA Website